ZANDER NATURAL GAS PURIFICATION
NATURAL GAS PURIFICATION
STV - HDAM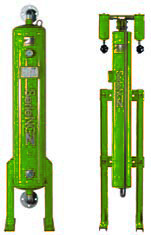 Safe and economical solution for the environmentally most friendly fuel of today.
Natural gas is at present an attractively priced fuel which also burns producing less pollution than conventional fuels. Promotion of this fuel by the EU governments for so-called individual traffic makes sense already with regard to the significantly lower environmental pollution, in particular because it is therewith possible to make an important contribution towards fulfilling the goals of the Kyoto protocol which are based on the intention of reducing pollutants in the atmosphere.
In order to make natural gas suitable for utilisation as fuel in motor vehicles, it is essential to remove suspended solid particles and to ensure that the gas is dry (i.e. that it contains no water)! On the one hand this ensures reliable operation of the vehicles by preventing clogging and corrosion of vital vehicle components such as the fuel system and the fuel tank.
On the other hand, natural gas fuel filling stations are not subject to disturbances, for example at compressor intakes or due to freezing at the fuel pumps, so that availability is ensured around the clock.
The criterion for natural gas quality is compliance with the stipulations of ISO 15403:2000(E).