ZANDER FILTERS
MICROFILTER
Filter elements FCA e FWS series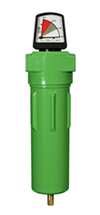 The FST Microfilter is a high-efficiency filter for producing clean, oil-free compressed air and industrial gases. The entire line is modular in design and available in convenient multi-stage systems to solve your compressed air and gas problems. The unique four-phase pleated element design (available in five levels of efficiency) is effective in trapping particulate and residual moisture to .01 micron and residual oil to .005 ppm at 99.9999% efficiency while providing the longest service life and lowest cost of operation in the business. Filters are available from vacuum to 5,000 psig, 15-18,000 scfm.
---
STERILE AND STEAM FILTRATION
FWP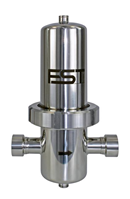 By their very nature, microorganisms (such as bacteria, viruses, bacteriophages and others)are extremely small.They pose an immense problem for branches of industry that have to use sterile air and gases. FST microfilters with elements remove particles, water and oil reliably and economically. Nevertheless, because of their specific properties, microorganisms cannot be barred effectively by these high-capacity filters, since the rapid proliferation of the microorganisms enables them to grow through the filter media!
For this purpose, FST sterile filters from the series FWP and High End HB are especially equipped with the necessary characteristics for meeting this critical task 100%. They provide a maximum of biological safety.

The robust D - HS - DPL series were developed specially for steam sterilization. The FST High End steam elements from the series HS and DPL are quite unique.Here, from microporous sintered fibres and the extremely large pleated filter surface the use of a large sum of pore cross-sections relative to the material share was implemented. This ensures an optimum ratio of filter fineness to filter capacity. The main task of all FST sterile and steam filters is to protect products from contamination by microorganisms and ultimately to protect the health of all consumers.